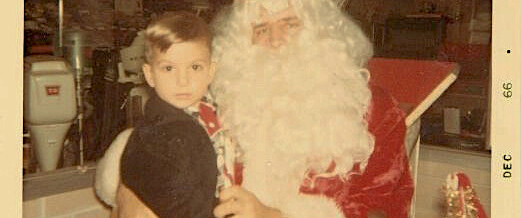 Christmas toys used to be simple. They fell into a handful of categories. For the most part, boys got army stuff. Girls received dolls.
A recent online check of top-selling toys proves this is no longer the case. What kids receive on Christmas morning these days is not G.I. Joe or Barbie. Matter of fact, I don't really understand what most of it is.
There's a photo of me that my mom took when I was around three. I received an army man uniform, which I'm proudly wearing as I stand in front of our real Christmas tree dad cut out in the woods.
The photo was taken inside a home my parents rented on Highway 71 South, just on the outskirts of Ashdown, Arkansas. It was located very close to the highway and across the street from a plant where many of the local women worked, making undergarments.
Times have changed a lot since this photo was snapped. Army man uniforms don't seem to be the rage anymore, and our underpants are now made across the pond, not across the street.
But, if G.I. Joe and Barbie are no longer ruling in sales, then what is?
According to Amazon's list of top selling toys, it's Mexican food toys, kittens, and just a handful of familiar toy names.
First, (and honestly, I wouldn't have believed this one if I hadn't seen it myself). A card game called, Taco vs. Burrito is likely to be making its way to the underside of a Christmas tree near you.
According to the description, a 7-year-old invented Taco vs. Burrito. No idea how the game works or what gave this kid their inspiration, but let's hope it isn't the aftermath of consumption of tacos and burritos.
And now one for the girls. One with a really long name: LOL Surprise Deluxe Present Surprise Series 2 Slumber Party Theme with Exclusive Doll & Lil Sister. That's how it's listed on the website.
Best I can tell it's a toy that encourages sleepovers. When I was a kid, we just called a sleepover a sleepover, and we didn't need a game for it or instructions. I can't tell you how this toy works. But the kids on the cover are cute.
And just when I thought that a toy name couldn't be any longer than the sleepover item, there's: Effacera Pop Fidget Spinner Toys 4 Pack, Tie-Dye Popper Pop Bubble Spinner Set, Christmas Party Favors Sensory Fidget Bulk Pack Toys, Pop Hand Spinners, Gifts for Kids Teen Girls or Boys.
When I searched for a description of it, this is what it said: 有专利和商标,请勿跟卖。
If anyone knows what that says, please fax me an email, or whatever it is that people do to communicate these days.
Brace yourself. The number four selling item this holiday season is Exploding Kittens – A Russian Roulette Card Game, Easy Family-Friendly Party Games – Card Games for Adults, Teens & Kids. The box says it is for people who are into kittens and explosions.
Thanks for clearing that up.
An, "Easy family-friendly party game?" Since when are Russian Roulette and Exploding Kittens family friendly?
You know, when I was a kid, we had a neighbor boy who was into kittens and explosions. They took that kid away. Too bad he wasn't born a little later. He would have had the perfect holiday gift this year.
And, why should the exploding kitten folks stop there? They also sell another big toy item this year is: Throw Throw Burrito, by Exploding Kittens – A Dodgeball Card Game – Family-Friendly Party Games – Card Games for Adults, Teens & Kids.
What's the deal with these ridiculously long names? I think we could have summed these toys up with, "Slumber Party," "Tie-Dyed Tops," "Popping Cats," and "The Aftermath of Tacos and Burritos."
When I was around 10, Evel Knievel toys were all of the rage. That's when they made toys that were worth keeping. I still have my Evel Knievel Super Stunt Cycle next to my 8-tracks, on the top shelf of the closet. Even though he hasn't worked since Nixon was in office.
Waking up on Christmas morning of 1973, there was Evel in all of his shining glory. Astraddle all of that plastic and imitation chrome, he sat ready for me to take him outside, set him on the sidewalk, crank the handle, and send him over a wooden ramp.
And on his maiden voyage, Evel crashed. He landed on his tailpipes, broke them off, and went careening into the concrete steps on the front porch.
And that was the end. He never worked correctly after that. There was no Internet. There was no way to repair him. I had an Evel Knievel Super Stunt Cycle, but his stunt days were over. But, I kept him.
Can't say that exploding kittens would be worth keeping. Besides, if the game actually does what it advertises, not sure what would be left to keep?
On a happy note, some of the other Amazon top-selling toys are names we recognize. If you don't want to buy the kids the newer toys like Hatchimals Pixies, Crystal Flyers Starlight Idol Magical Flying Pixie Toy with Lights, then there's still a Slinky, Connect4, Jenga, Scrabble, or a Sit 'n Spin.
Me? I may buy the kids an Exploding Kittens game. Maybe I can show them that a good old G.I. Joe can disarm the thing, escape with Evel on his motorcycle, and save us all this Christmas.
©2021 John Moore
John's new book, Puns for Groan People, and his books, Write of Passage: A Southerner's View of Then and Now Vol. 1 and Vol. 2, are available on his website – TheCountryWriter.com, where you can also send him a message and hear his weekly podcast.