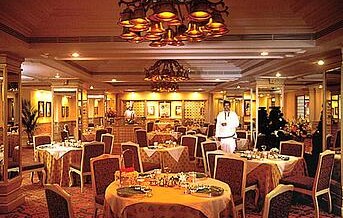 My wife and I don't eat out often, but when we do, we treat ourselves to a nice meal. This time, we tried somewhere fancy. And the restaurant we visited had more wait staff dedicated to us than Wal Mart has employees.
There were two valets, our maitre' d, three greeting girls, our waiter, a beverage waiter, a bread girl, a guy whose only job seemed to be refilling our water glasses, and another girl who just walked from place to place and smiled.
The meal and service were excellent, but of course, that always comes with a price. But, hey, we were celebrating a special occasion, so it was worth it.
However, as I sat there soaking up all this attention from these folks, I wondered what it would be like if we all had the same experience of a high-dollar restaurant at the places we actually frequent.
It might go something like this:
"Good Evening, and welcome to McDonald's. Are either of you here tonight for a special occasion?"
"Yes, it's our wedding anniversary."
"Well, happy anniversary. We are so glad you chose to spend your anniversary here with us at McDonald's, and as our anniversary gift to you, in just a moment I'll be bringing out some complimentary McNuggets from the appetizer section of our menu."
"I'd like to introduce Todd. He is our beverage expert. He's now pouring you up some samples of our 2013 Coca Cola, which was a momentous year for syrup concentrate."
"While you two try that, may I take a moment to tell you about this evening's specials?"
"Certainly."
"We have our Angus beef, served over a bed of hothouse vegetables with our special sauce and toasted bread, for just $4.95. For a small additional charge, we can add slivered potatoes, blanched in grease and heavily salted."
"Sounds tasty."
"We also have a special from the seafood section of our menu. Tonight's fish was caught fresh in the deepest part of a refrigerated semi trailer. It is tenderly battered and cooked, then placed on a sesame seed bun and slathered in a packaged mayo with pickle sprinkles that we like to call 'Tartar Sauce'."
"How do those sound to you?"
"I'll have the beef and she'll have the fish."
"Excellent choices. Will you be saving any room for dessert this evening? Our creamy soft serve is available tonight with or without chocolate sauce."
"Thanks, but no. We'd better just get our order and move along. The guy behind us here in the drive-thru is getting impatient and is honking his horn."
©2014 John Moore