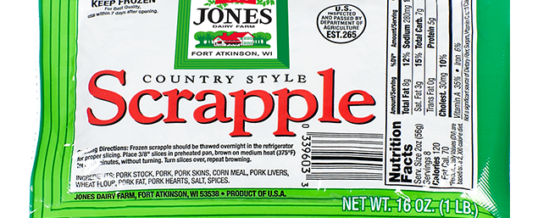 Years ago during lunch, a friend who had moved to Texas from another part of the country, which will remain nameless (Maryland), began talking about something called "Scrapple."
I had just sawed through and devoured another bite of my chicken fried steak with gravy when I told him that Scrapple was one of my favorite games.
"No, not Scrabble," he said. "It's Scrapple. Scrapple is a food," he added.
I took a bite of my mashed potatoes and gravy and raised an eyebrow.
"If scrapple is a food, it sounds like leftovers all mashed together," I said.
"No, not at all," he said. "It's a mixture of pork scraps, cornmeal, flour, salt, and pepper. You make it into a loaf, then you slice it and fry it in a skillet."
Dipping my biscuit in some gravy, I said, "Oh, you mean like weenies and Spam?"
"No, it's not Spam," he replied. "Another name for it is pannhaas, which means, 'pan rabbit.'
Ordering some more gravy from the waitress, I asked him why a dish that has no rabbit in it was called 'pan rabbit.'
He admitted that he had no idea why, but he went on and on about how great scrapple was and how he could eat it any day of the week.
I dipped out the last of my gravy with a spoon and wondered how anyone could be so enamored with one particular food.
During my limited travels in the US, I've discovered that each area of the country has its favorites. Like our colloquialisms, many of the regional food favorites are imports, brought with immigrants when they came to America.
Scrapple came with the Pennsylvania Dutch and is most commonly found in the eastern US. In addition to pork, butchers often include the scraps of other unused parts of an animal, so that nothing goes to waste.
I grew up in Arkansas. From everything I've been told, a similar approach was used to make the staples of my childhood – hot dogs and baloney.
There were no all-beef, kosher, low-sodium, fat free, ballpark franks in those days. We ate weenies. We didn't ask any questions. We just ate the weenies. And we liked them. The same went for bologna, or 'baloney' as we all still refer to it.
To this day, it is my redneck opinion that a fried baloney sandwich on white bread, with Miracle Whip, and a pile of Fritos, is as good as any gourmet dish that some fancy chef could whip up.
As my favorite Dutch oven expert, Cowboy Kent Rollins, who lives in Hollis, Oklahoma, says, "You can't get full on fancy."
Right you are, Mr. Rollins.
But thinking about my buddy from Maryland and his love of scrapple, I decided to do a little research to see what other regional recipes were to be found in various pockets of our great nation.
My search turned up some interesting dishes, including connections with the favorites I grew up with.
In West Virginia, biscuits and gravy often share a breakfast plate with fried squirrel. Now, I may not have mentioned this, but I'm a big fan of gravy. As a matter of fact, if I cut my leg, I bleed gravy.
But, despite the fact that I've eaten squirrel in a variety of ways, I have never had fried squirrel for breakfast. Not that I'm opposed to the idea, mind you. Especially if there's gravy involved.
The fact that I've never been to West Virginia may have something to do with the reason I've not had this wonderful-sounding, palate-pleasing combo meal.
Grandy's or Denny's should make this happen.
Squirrel deserves more menu opportunities in this country. For whatever reason, squirrel is not commercially available in the United States of America. Giving it the same commercial avenues as alligator, rattlesnake, and sheep, would be a step in the right direction.
Bon Appétit magazine posted a YouTube video of kids trying a number of different regional favorites that featured meats. And the video reveals what we already know.
Kids are honest. And a taste test always holds up.
If you don't tell kids what they're eating, they will tell you what they think of it after they try it. They often don't change their opinion, even after you tell them what it is.
Even after the children were told that they consumed sheep, alligator, and rattlesnake, they still gave an honest opinion of whether they liked it or not.
Except for the sheep. For some reason, kids don't like the idea of eating a sheep. They may have liked it when they had a sample, but their remorse for eating it swayed their final answers.
The mutton cubes on toothpicks, served alongside a stack of saltine crackers, is called "chislic," and is a favorite in South Dakota. Personally, I think the kids would have liked it better if they had given them a bowl of gravy for dipping.
A Louisiana recipe, fried alligator balls, was well received. To be clear, it's alligator meat, rolled in balls of dough and then fried in oil.
An Oklahoma concoction of fried rattlesnake, dipped in ketchup, was also a hit.
Online searches revealed other regional food favorites.
According to foodandwine.com, Alaskans like reindeer hot dogs; folks in the Midwest like deep-fried cheese curds; residents of Hawaii love something called, loco moco – a bed of white rice, topped with a hamburger patty, a fried egg, and gravy.
Never been to Hawaii, but the folks there obviously have good taste.
Last, but certainly not least, pickled pigs feet are a favorite in the South, especially in Texas and Arkansas.
You can toss pickled pigs feet into a pot of rice and beans, but you can also just as easily sprinkle Chipotle Tobasco on them and enjoy.
There are several regional recipes I could've included, but some readers probably wouldn't appreciate them.
An example would be mountain oysters. I can't even fathom trying mountain oysters (which are more like the previous alligator recipe than the actual alligator recipe).
Unless mountain oysters are served with gravy. Anyone know if they're served with gravy?
John's book, Write of Passage: A Southerner's View of Then and Now, is available on Amazon at https://www.amazon.com/Write-Passage-Southerners-View-Then/dp/1548144983.
Email John at John@TheCountryWriter.com.