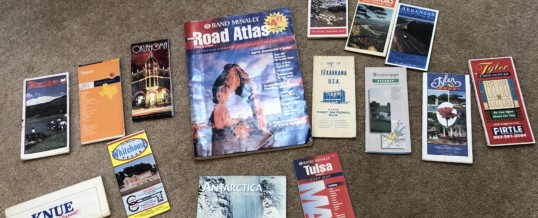 I'm not sure exactly when the road map met its demise, but I do remember cleaning out the last of them that I owned and used from a glove box in a car I was preparing to pass on to someone else. It was a 1971 Oldsmobile Cutlass Sport Coupe.
Before you think this was decades ago, I drove that car up until the mid-2000s, and then passed it along to one of our kids. He drove it for years after that.
I was in a hurry to remove the flashlight with dead batteries, the screwdrivers, extra taillight bulbs, and crushed box of Kleenex, but I had to pause a moment when I pulled out a stack of roadmaps as thick as my arm.
Some had 'Texaco' or some other gas station chain's name stamped on them. I had, at some point while on the road, gotten lost and stopped in at a gas station to drop a buck or two on the map. Others were complimentary.
One was a Texas map that was still quite nice. The grade of paper was really good and the details were clear. I had obviously bought it at a bookstore or other purveyor of fine cartography.
Another was a Tyler, Texas, map that a local vendor had put together and sold advertising spaces on. The radio station for which I worked at the time had the prominent outside fold spot.
I don't remember the radio station participating in that project, but I'm sure it was something we promoted heavily at the time.
"Stop by the following locations to pick up your free KNUE, Tyler, Texas roadmap…" was typically how we worded the liner cards for promotions such as this. Those cards were fanned out across the control room board for the jocks to read.
Advertising always finds a way. Even with road maps.
As I went through this stack of maps, many of which were for the exact same locations – Texas, Arkansas, Oklahoma, Louisiana – I had to wonder why I would have stopped and bought another map if I already had one for what I needed.
There was even a map in the stack for Antarctica from the National Geographic. If we took that trip, I was too cold to remember it. But, if any car I ever owned could have made it there and back, it was my 1971 Olds Cutlass.
Was I in such a hurry to get where I was going that I didn't want to rifle through a dark glove box, or could I honestly just not find the thing? Either way, this wasn't the only vehicle I had cleaned out before parting with it that included large stacks of road maps.
I took them into the house and added them to the stack of maps in a cabinet that were all from the last car I'd cleaned out and sold.
The maps in the house were almost identical to the ones I'd just cleaned out of the car. But, hey, we had twice as many maps now. Just in case I needed them.
But, instead of looking through those maps to put into the next car I'd bought, I had obviously stopped at another Conoco or Phillips 66 and just bought more.
And back then, we did need them when we left home to travel into unknown lands – Houston, Dallas, Tulsa, or other places that swallowed up small town people like us.
Once upon a time, pulling over at a roadside rest stop or in the parking lot of a Piggly Wiggly to stand outside your vehicle with a map spread out across the hood of a Buick Skylark or a Chevy Nova was a common sight.
Folks would even stop and offer to help you find your way if they saw you with a map out. The assistance was appreciated and welcomed.
Not today. Stopping anywhere and looking lost could make you a mark.
I miss the old days.
For those who have always relied on their cell phone or vehicle's GPS device to give them directions, I'm sure it's hard to imagine using a road map. But, my wife and I still take one with us.
Sure, we have successfully used Siri on our phone to help us find our way, but a couple of times, I was fairly certain that based on her directions, she'd been drinking heavily. That's when we get out the map.
Thankfully, Rand McNally still publishes a new atlas of all 50 states. It's not like the old maps that you used to get from a gas station, but it is well done and my wife is fairly religious about making sure we have the newest one before we hit the road.
But, we're also still dragging around all of those maps from the glove box of my old Cutlass from house to house.
Just in case I need them.
©2019 John Moore
John's book, Write of Passage, A Southerner's View of Then and Now, is available on Amazon and Barnes and Noble.
Email John at John@TheCountryWriter.com.