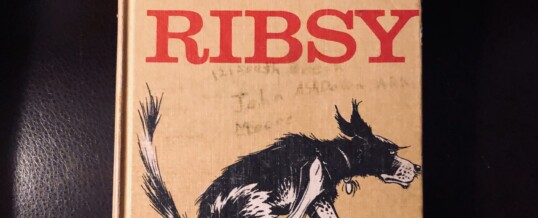 A child wrote his name and address on the cover of the book. The writing is printed, not in cursive. So, he was young.
Most children know better than to write on or in a book. The child must have valued the book greatly and didn't want anyone else to try and take it.
I know for a fact that he valued it. That child was me.
Published in 1964, the book "Ribsy" is about a dog that becomes separated from his family in a shopping center. He spends a month on an adventure before his owner Henry finds him and takes him home.
This sounds like a simple story. But to me, it was traumatic.
To think that a boy could lose his dog was devastating. To think that he'd go missing for a month was beyond comprehension.
My father gave me the book in 1968. I read it over and over. I not only never forgot it, I still have it. I didn't remember still having it until a drive home late one night.
My vision isn't what it used to be. It's worse at night. So, when I saw something out of the corner of my right eye, I mistook the movement for a rabbit.
My goal was to avoid it as it darted side-to-side across the road. As I slowed, I realized it was not a rabbit. It was a small dog.
Thinking someone's pet had made its way out of the house and yard and was now lost, I decided to catch the pup.
That turned out to be easier said than done.
During the same years I was reading Ribsy, my mom also had me in Scouts. The motto, "Be Prepared" also stayed with me. After pulling my car into a nearby driveway, I got out, removed my high-powered flashlight from my belt, and began tracking the dog.
He ran to the front of a house. I thought maybe this was home and his owners just needed to know he was out there. I knocked. A nice young couple opened the door, but said it wasn't their dog. They said the dog had been out there for a few hours roaming the street and neighborhood.
They thought someone else who'd stopped earlier had already picked him up.
It was almost 9:30 p.m. I asked for their help. Did they have some hot dogs or other meat that might help lure him? They said they did.
The dog did not respond to our calls, the meat, or anything else. He just ran aimlessly, frightened, and panting the whole way.
We were finally able to get him between my car and the entrance to another home. I picked him up and held him close. He trembled and whimpered, but seemed to calm down.
I thanked the couple and told them who I was and where I lived. I said I'd take the dog home and find his owner the next day.
At least, that was the plan.
When we got into the car, I placed him on the passenger's seat. He immediately collapsed, put his head down and became quiet.
He was absolutely spent.
I talked to him and stroked his head and back. I told him he was OK and that we'd get him home.
I called my wife and announced I was bringing a dog home. She made arrangements as best she could to accommodate our unexpected guest.
In the light of our living room we could see he was in rough shape. His hair was matted and filled with burs. He had oil and other road fluids all over him. He smelled. He was once again shaking.
I sat down in my chair and held him. We stayed there all night.
As the light began to break through the living room window, I awoke and looked down at him.
He slept.
I found evidence of a collar. He'd either lost it or it had been removed.
I took pictures of him before leaving for work and posted them on social media and a neighborhood app for the area where I'd found him.
We waited. Days turned into weeks.
During our wait for someone to claim him, two things were evident: he was almost deaf, and his vision was diminished. That's why he hadn't responded to our repeated calling when we were trying to catch him.
I repeatedly drove back through the area where I'd found him, looking for a lost dog poster with his picture.
The social media and app posts stayed up. No response. Usually, the post of a lost pet on social media will at least get you a, "Oh that looks like so-and-so's dog. I'll share your post!"
But, nothing.
He'd either roamed so far from home (Not likely. I found him in the country, where predators are plentiful), or someone had dumped him. We suspected it was the latter.
Dumping animals is common in the country. I believe there's a special place in the afterlife for those who abandon a dog or cat.
Ribsy hadn't been abandoned, he just got lost. In the book, during his one-month excursion everyone who encountered Ribsy gave him something to eat, took him in, and showed him love.
That had not been the case for this little guy.
The first week he was with us we took him to the vet. We were told he needed surgery, grooming, and medications. So that's what he got.
He also needed a home. He got that too.
We named him Will.
He never leaves my side. It's as if he knows that he was in trouble, and now he has a family.
I do believe that rescue animals know. And I believe they are grateful.
I know that I am. I'm grateful for a book I've had since I was six-years-old.
If you have a child or grandchild, I highly recommend the book, "Ribsy" by Beverly Cleary. The story is one of faith, love, and finding your way.
A story similar to our Will, where there was also a way.
©2021 John Moore
John's new book, Puns for Groan People, and his books, Write of Passage: A Southerner's View of Then and Now Vol. 1 and Vol. 2, are available on his website – TheCountryWriter.com, where you can also send him a message and hear his weekly podcast.