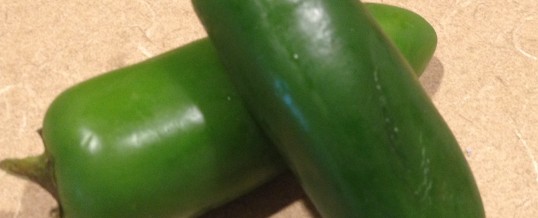 As tears ran down my face, in a raspy voice I mumbled, "You owe me a dollar."
Ms. Bettie was one of the senior checkers at the Piggly Wiggly. She had bet me a dollar that I couldn't eat a whole, raw jalapeño.
She was right. But with all of our coworkers watching, I was not about to admit defeat.
I was 17 and had never eaten a hot pepper. But, like most guys that age, I was all gas pedal, and no brakes.
Let me assure you. That jalapeño moved my foot over from the gas to the brake.
My first foray into chili consumption got my attention. I wanted to understand why people would not only pay money for a chili pepper, I wanted to understand why they would consume them.
After the Piggly Wiggly jalapeño incident, my next step down a lifetime path of all things spicy led to Miss Mac's Cafe.
Mac's Cafe was a hometown truck stop and diner that, unfortunately, disappeared not long after Miss Mac left us. The menu was a list of Southern food's greatest hits.
There were all of the typical things you'd expect to find; meatloaf, chicken and dumplings, hamburgers and, my personal favorite, the hot steak sandwich.
The hot steak sandwich was a mouth-wateringly good chicken fried steak, served with gravy, a salad with homemade dressing, and French fries. But, there were other sides you could order to go with it. A customer favorite was greens.
Each table had a squeeze bottle of the homemade salad dressing, Heinz Ketchup, salt and pepper, sugar, and a bottle of clear hot sauce with the green peppers inside. The hot sauce poured on greens was heavenly.
From the hot sauce, I eventually graduated to Tobasco Sauce. Tobasco is made and bottled in New Iberia, Louisiana. There are only three ingredients on the bottle; red peppers, vinegar and salt, but what they do with those three ingredients is perfection.
Comedian Dan Aykroyd is quoted as saying that he eats Tobasco on, "Everything humans can consume." I agree with Mr. Aykroyd.
My wife still gets frustrated with me about putting Tobasco on everything before even tasting the food. But, she has given up. I put it on everything except pancakes.
Several years ago, my wife took up gardening. Turns out that East Texas is quite the fertile location for growing chili peppers. To try and satisfy my ever-growing capsaicin addiction, she graciously agreed to see what she could raise.
She tried cayenne peppers first. Cayennes easily grow here. And in great abundance. The first year, we picked the harvest and let them dry. Using the food chopper, we made our own red pepper flakes. It's the same stuff you see in the glass shaker at a pizza restaurant, only lots fresher.
Since the first cayenne crop, she has also grown habanero, Tabasco, and jalapeño peppers. By far, jalapeños have proven to be the most versatile and my favorite.
And jalapeños can be used for just about anything.
A jalapeño pepper corer can remove the seeds, allowing for a stuffed pepper. A great stuffed pepper recipe includes beef or chicken fajita meat and cheese. Sliced fresh jalapeños are great on nachos and sandwiches; and my wife also uses diced jalapeños in a tasty coleslaw recipe.
My love for hot peppers now knows no bounds. I eat peppers or pepper sauce on just about everything.
As for nutritional value, many studies have indicated that the capsaicin has anti-carcinogenic properties. Possibly proving that hot is healthy.
I don't know if that's true or not, but I'd bet on it.
©2016 John Moore
To read additional blogs, visit johnmoore.net/blog