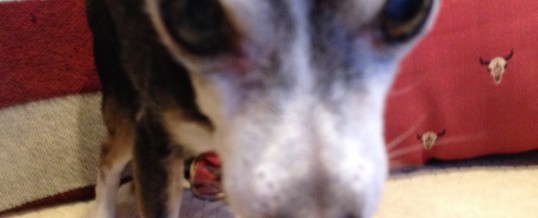 He came to us when he was between 5-7 years old.
We'll never know exactly how old he is because the people who drove to the dead end road in front of our home, removed his collar, dumped him out, and drove away, didn't leave a note.
It was a 102-degree July day in 2006.
He came to the sliding glass door on the back of our house and stood their waiting to be let in. I would assume it was exactly what he did at their home before they decided that he wasn't worth keeping.
"Whose dog is that?" I asked my wife.
"Maybe it's the neighbors'," she said. "They take in lots of rescues."
I called the neighbor, but after describing the small terrier mix with big eyes, "No," the neighbor said. It wasn't theirs.
After heading outside to see about him, I could see where he'd had a collar and it was no longer there. He was hot. I gave him cold water.
I checked with the other neighbors. Nope. No one's dog. But one neighbor informed me that dog dumping was common on our street.
We had lived in our country neighborhood for only a couple of years. I liked everything about the neighborhood until I was told that.
Our previous dog had just died of heart disease and, emotionally, neither of us was in much of a mindset to take on another dog.
"He can stay outside on the porch and if he's still here in a week, we'll think about keeping him," my wife said as he jumped up in her lap.
He was such a loveable guy, I kept thinking that maybe whoever dumped him would realize their mistake and return for him.
I made him a place to sleep outside in the shade under the fan and put out food and water.
And each day, like an 8-year-old boy, I'd awake to see if he was still there. Afternoons, I would come home and ask if he was still there. "Check out back," she would say. He always was.
We gave him lots of attention. He liked it there. I was glad.
One Friday, I came home and he wasn't out back. "Where is he?" I asked. She pointed to the couch. There was a lump under the blanket. He was obviously a burrower, and he was obviously staying.
"He has bug eyes like a scientist. Let's name him Egbert," I said. "No, we're not naming him Egbert," she responded. "But we can name him 'Bert'."
And so we did.
Bert has been with us through many family changes. The loss of family members, the births of new ones, anniversaries, birthdays, good times, and tough times. He's been our friend.
Of late, I had lost sight of what he has meant to us. His gradual instability, accidents and increased medical care have frustrated me.
My friend who used to be agile and attentive now is frequently underfoot or sleeping a lot.
My attitude was bad, and I came to realize it. I believe that most, if not all, of my frustration is the inability to accept that this relationship is nearing the end.
Life is a cycle. There is a beginning and an end. We struggle at the beginning, and we struggle at the end.
I don't know how much longer Bert will be with us, but that 8-year-old boy inside of me is sure glad that of all of the houses in our neighborhood he could have chosen nine years ago, he picked ours.
©2015 John Moore
To read additional blogs, visit johnmoore.net/blog