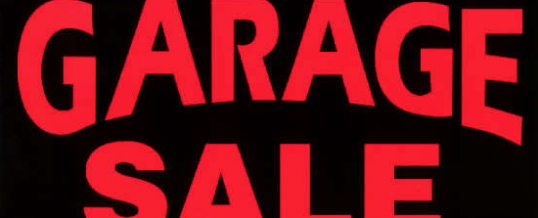 I love garage sales.
There are some habits that you pick up from family and some that you don't. Going to garage sales is one that I picked up.
As a kid, my family went to garage sales and estate sales almost every weekend. Part of the reason for this, I suspect, was that my grandfather was a blacksmith and went to Canton Texas Trade Days each month to buy many of the shop items he needed for resale.
It was around 1968 the first time I set foot in Canton. Virtually every month, we'd either travel with my grandparents or go on our own. Back then, in addition to what were called the junk dealers, you still saw lots of livestock being traded.
Canton was a lot smaller then and you could walk the whole thing in a day. While my grandfather traded with vendors for hoe and axe handles, plows and steel, my parents looked for things our household could use. The other kids and I were normally allowed a buck or two to pick one item we wanted. It was this small allotment of cash that taught me how to bargain for the rest of my life.
When I realized that other people had bought the same item from the same dealer that I had bought mine, and that they had gotten it for a lower price than I had, that was when I learned to maximize a dollar.
Haggling is the language of garage sales. Never ever pay sticker for a flea market or garage sale item. Almost always, the seller is willing, even expecting, to take less.
Some of my favorite things came from this type of dealing.
Over 40 years ago, my parents bought a mantle clock in Canton. That clock now sits above the fireplace in my living room. Their $45 investment has given me a million dollars worth of enjoyment.
The percolator my wife and I use each morning was made in about 1960. It still brews the best coffee we've ever tasted. I paid fifty cents for it at an estate sale.
Numerous other treasured items include dutch ovens, collectible dishes, rare record albums, and out of print books.
Estate sales are the best place to find valuable items, but sometimes going to one can be sad. I remember walking through someone's former home and looking at the sparse lay of what remained. On the floor, I saw a badge with a man's name. This guy had likely worked hard his entire life and shortly after he'd passed, strangers were rummaging through his things.
I like to think that he and others who are now departed would appreciate the fact that people like me will continue to use what they once treasured.
Some folks spend their Saturdays at the movies. I like to spend mine searching for the next unexpected find.
To me, there's nothing else more satisfying that finding gold in a sea of junk, all while feeling as if you got a deal.
I've been at it now for a long time and have amassed some pretty amazing things. Too many amazing things, actually. Matter of fact, I really need to have a garage sale.
©2015 John Moore
For more of John's musings, visit johnmoore.net/blog