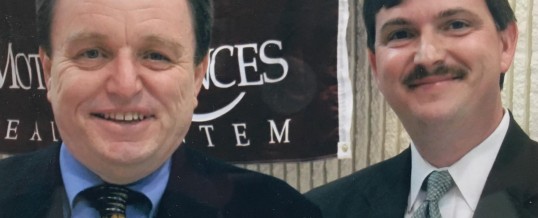 Most old-school celebrities are just regular folks.
There are very few celebrities I'll spend money to see, but Jay Leno made the list.
We sat in the audience waiting for him to take the stage, and when he did, he didn't disappoint. He's one of the few comedians left who can be non-stop funny for 90 minutes without being vulgar.
We didn't get to meet Jay, but he seems like a nice guy. He has that reputation in the show business community.
As we left the venue to grab a bite to eat, I thought about the celebrities and famous people I have met. In my former career in broadcasting, I met a lot of well-known people. It was part of the job.
Singers were always touring to promote and sell albums, writers were pushing books, actors were hawking a movie, TV series, or were trying to raise awareness for a charity, and politicians were trying to get re-elected.
As a seventeen-year-old, just starting out, my first few celebrity encounters were nerve wracking. On live radio, I had to interview Mel Tillis. Fortunately, he was very nice and accommodating. I'm sure he sensed my nervousness and tried to help me out. I'm guessing it's probably the only time in his career when the interviewer stuttered more than he did.
But, the more well-known people I met and interviewed, the more it became obvious that they were just regular people who had worked hard to succeed at what they did. Most of them were very appreciative for what you were doing to help promote their career.
When The Judd's first hit the scene, they had one hit under their belt. I interviewed Wynonna backstage at a community college auditorium. She and I were about the same age, and it seemed as if one kid was interviewing another. She was cordial and unassuming.
Just two years later, she and her mom would be one of the biggest acts in Country Music.
Randy Travis surprised me. He was promoting a new album, and called me from the set of a movie he was filming. I was in the studio doing my show and the interview was live. He stayed on for about half an hour, and then talked to me off-air for another 45 minutes. A genuinely nice guy who was grateful for his success. I feel bad for how things have turned out for his health and pray that he will improve.
I met and interviewed the beautiful singer Lorrie Morgan. She made me stutter too.
Vice President Dan Quayle was the antithesis of how the left in the press portrayed him. He was very articulate and obviously one of the smartest people in the room. I met him when he came to town trying to help he and his boss keep their jobs in the White House. He looked more like a movie star than a politician. Striking in looks and talked to you as if you were old friends.
President Bill Clinton was the master of interacting with people. I met him when he was still the Governor of Arkansas. I've never seen anyone else work a room full of people like he does. All of his faults aside, he went out of his way to be nice.
Remember Jerry Mathers? Beaver Cleaver from TV? He makes the top five list of nicest celebrities I've worked with. I say worked with, because he spent two days in town on a promotional tour. I was assigned to him to make sure everything went OK, so that included picking him up and taking him where he needed to go. One evening, he addressed a crowd of 800 people and then stayed for photos and autographs of everyone who wanted one. Later, at a restaurant, he greeted everyone who approached him, even though they were interrupting his meal.
I was even able to interview one of my idols. Mel Blanc may not be a name you immediately recognize, but you know his work. He did the voices of over 1,000 cartoon characters, including Bugs Bunny, Daffy Duck, Yosemite Sam, Sylvester, Tweety, and many more for Warner Brothers.
I talked to him by phone in 1984, just five years before he passed. He was so kind and generous. There's nothing quite like hearing Bugs Bunny say your name.
If there's one thing I miss about broadcasting, it's the interaction with the famous people who turn out to be just regular folks.
I didn't get a chance to meet Jay Leno, but Jay, if you're reading this, you rank right up there with Mel in the idol category.
©2017 John Moore
To read additional blogs, visit johnmoore.net/blog