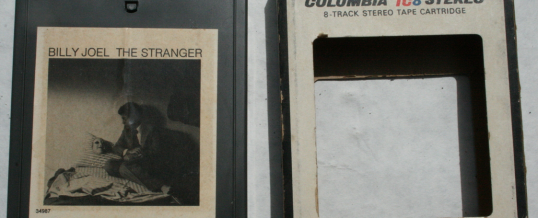 We got into my friend's car and Billy Joel came on the satellite radio.
I began to sing along. It was an album cut. Not one that had been played much on the radio almost 40 years ago.
I knew all of the words. My friend pointed that out.
For Christmas in 1977, I wanted Billy Joel's new album, "The Stranger". Specifically, I wanted it on 8-track. I'd been driving for about a year, and no self-respecting teen left home without his or her 8-track case.
Christmas came, and my parents came through. It was in my stocking along with the obligatory oranges and walnuts my mother had always made sure Santa included.
1977 was a pivotal time in my life. I was no longer a child, but was far from a man. I had my first real girlfriend, I'd taken up tennis (the only sport in which I've ever excelled) and my father had generously given me my first car; his 1966 Ford Mustang.
I had installed an 8-track player in my mom's 1971 Buick Electra 225 Limited and hard wired an under-dash unit in the Mustang. I had transportation, I had a girlfriend, and I had my music. Life was good.
As other family members drank coffee and chatted by the fireplace Christmas morning, I put on my jacket, peeled the cellophane from the exterior of Billy's brand new work, and made my way to the Mustang.
I opened the door and slid into the red vinyl seat, closed the door, and cranked the engine. Frost came from my breath. I pushed the 8-track into the deck. A few moments of tape hiss was followed by an album the likes of which I'd not heard before.
Each song spoke to me, musically and lyrically.
One in particular, "Vienna," was a poetic message from a still young Billy Joel to a quite young John Moore. The verses contained wisdom from him that I likely would not have heard had the same come from my parents or any other adult in my life.
Slow down, you crazy child
You're so ambitious for a juvenile
But then if you're so smart, then tell me
Why are you still so afraid?
Where's the fire, what's the hurry about?
You'd better cool it off before you burn it out
You've got so much to do
And only so many hours in a day
But you know that when the truth is told
That you can get what you want or you can just get old
You're gonna kick off before you even get halfway through
When will you realize, Vienna waits for you
I had no idea what Vienna had to do with anything, so when I heard these lyrics for the first time, I allowed the city to be a placeholder for whatever my lot in life was destined to be.
The song gave me comfort. It helped me to understand that I wasn't the only teenager who was in a big hurry to prove myself as fast as I could, with absolutely no clue of how to do it.
I listened to the album all the way through at least twice.
I exited the Mustang and rejoined my family to celebrate the remainder of Christmas and await 1978.
As my friend's satellite radio displayed "Billy Joel – Vienna" on the scrolling digital screen, I confirmed to him that I knew all of the words to the song. Silently, I acknowledged that I knew every word on that album.
I thought back to Christmas 1977, where I was in life, how many things have happened since then, and about all of the changes that have occurred.
I went home and searched until I found Billy's magnum opus. I hit play and rediscovered the comfort that an uncertain yet determined young man in Southwest Arkansas needed 38 years ago.
Thanks to you Billy, I realized that I'm in Vienna this Christmas.
©2015 John Moore
To read more of John's musings, visit johnmoore.net/blog