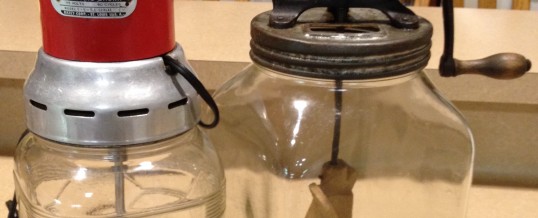 This week, for the first time in my life, I made my own butter.
But to get to the beginning of this tasty story, we have to go back a few years.
In 2013, I was sitting in the waiting room at my sleep doctor's office when I became tired of the talking heads on the news network arguing with each other, so I struck up a conversation with an older gentleman and his wife. Turns out, they were also sick of everyone arguing about politics and were happy to talk about something else.
Mr. and Mrs. Roberts were retired and from the Lake Fork area. I asked what his hobbies were, and he said he liked working in his shop. I told him that I also enjoyed my shop and that I had recently finished a blacksmithing school. I explained that my grandfather and great-grandfather were blacksmiths.
Surprised that someone my age had this family heritage, and that I had attended a blacksmithing school, he shared with me his history with anvils, forges and the like, and he suggested that he might be interested in selling some of his items to a person who would appreciate and use them.
We agreed upon a date and time, and a week or so later, my neighbor and I went to Lake Fork. Mr. Roberts sold me a few items, which my neighbor helped me load and transport. I took the items home and put them to good use.
Mr. Roberts and I agreed to keep in touch, which we have through email. Ironically, our periodic communications have dealt mainly with politics. That is, until a couple of weeks ago.
He emailed me and said he was possibly interested in parting with additional items.
We once again set a time to meet, and back to Lake Fork my neighbor and I went.
Arriving on a cloudy Saturday morning, I met Mr. Roberts at the front door, expecting him to accompany me to his shop. Instead, he invited us into his home.
This time, it wasn't just blacksmithing items they were interested in finding a new home for.
He took us on a tour of their home, showing us each antique they had, explaining its history and, surprisingly, offering to sell many of them.
This is where Mrs. Roberts took over. His domain was the shop, but hers was the house.
I negotiated with her for a Tom's Peanuts jar, and we agreed on a price.
Then, I saw the butter churns. She had a hand-crank butter churn, which I wanted, but it was the electric butter churn, which really caught my eye.
Now, I don't know about your family, but both sides of mine grew up with not a lot of frills. Churning butter was a common occurrence, but electricity was not how their butter churn operated. It was run by elbow grease.
Folks with electricity and an electric butter churn were, as my dad likes to say, "Livin' in high cotton."
Mrs. Roberts sold me both churns; Mr. Roberts sold me an anvil from his shop, and my neighbor and I were homeward bound.
The minute I got home, I wanted to make butter. My wife informed me that I would need to go to the store and get some heavy cream, which I did.
As the electric churn did its thing, I watched it and thought about how nice of an item this would have been to own in the 30s or 40s. I also thought about how much we take for granted.
After shifting the butter from the electric to the hand-crank churn, I continued on with the effort. Feeling as if I wasn't making enough progress, at my wife's suggestion, I shifted the butter batter to our food processor.
Quite quickly, the buttermilk began to separate from the butter. I moved it to a bowl and began to mash the butter until I got all of the liquid out of it that I could.
Looking at the clock, about an hour had passed. And so had my yearning to ever again make my own butter.
Both of the churns are now clean and on permanent display in our home.
Me? I'm headed down to the shop now to pound on my new anvil.
©2016 John Moore
For more of John's musings, visit johnmoore.net/blog