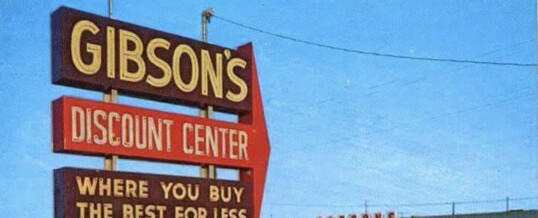 It wasn't my idea of a vacation, but I went anyway.
Reagan was happily in the White House. I was reluctantly in Hot Springs, Arkansas.
The choice had been either a relaxing summer trip to the lake, or a marketing convention.
I lost the coin toss.
In an effort to make the best of it, I arose early before the first day of the convention, quietly dressed, and steered the Dodge out of the motel parking lot and into the morning.
I was searching for garage sales, estate sales, or flea markets.
I was raised on such. From the time I can remember, my family's favorite pastime was looking through second-hand sales for deals. Sometimes we found gold; sometimes we found junk. But we always found enjoyment.
Within a few blocks, I hit pay dirt. It was a garage sale that not only had the typical knick knacks, but it also included items which had belonged to a man who had recently passed away. His wife talked about what each item had meant to him. Even if an item seems insignificant to someone else, it once held great value to its original owner.
I've encountered people who find it a bit vulturish to comb through another person's possessions. But I view acquiring these items as the opportunity to become their next caregiver.
The first treasure I spotted was a pair of binoculars. Binoculars that were about to take me back to the past.
Opening the case, I saw that they had been put to use. There was a slight bit of wear, but they were still in great shape. Then I saw the brand: Gibson's.
I hadn't seen that name in several years. Memories came rushing back.
Gibson's was a chain of stores that once dotted the area where I grew up in mid-20th Century America. Before Walmart, Sam's, Academy, and other modern stores, there was Gibson's. Or, as the large, arrow-shaped sign in front of each store said, "Gibson's Discount Center – Where You Buy The Best For Less."
In the 1960s, before shopping malls and strip centers, purchasing things was fairly compartmentalized. If you needed clothes, you shopped at a clothing store. For appliances, you did business with Sears or Montgomery Ward.
But for household items, there was the five and dime for smaller purchases (for us, that was at Ben Franklin) or there was Gibson's.
At its peak, Gibson's had hundreds of stores across the southern and Midwestern US. The nearest one to my family was on Stateline Avenue in Texarkana.
Gibson's was like a combination of a five and dime, a Walwart, and the garden center at Lowe's.
It had pretty much anything you needed. And it was the go-to place to shop for almost everything.
But, times change and Gibson's impact and market share slowly waned. For me, its decline was almost imperceptible. Walmart was a big reason for Gibson's demise.
I was guilty of taking my business away from Gibson's. The shiny new object always diverts your attention.
In the mid-70s, Walmart number 17 opened in my hometown of Ashdown, Arkansas. It was nearby, and it was competitive. So, my family's allegiance shifted and we gradually stopped shopping at Gibson's.
We weren't the only ones. By the late 70s, the Gibson's on Stateline struggled and eventually went out of business.
In the empty shell of where Gibson's once mightily stood, a weekend, community garage sale popped up there after it closed.
At the homestead where we now live, we have lots of trees. Recently, I noticed significant movement in the elm near the front of the property. So, I dug out my binoculars to see what was going on.
They weren't just any binoculars; they were the pair of Gibson's binoculars I bought 30 years earlier at that garage sale in Hot Springs.
They worked well in helping me spot our peacock, which was hanging out in the elm tree. Seeing the Gibson's logo on the binocular lens caps made me curious about Gibson's.
So, I searched the web for more details about this once dominant retailer.
According to Wikipedia and some newspaper articles, after the national chain went out of business, a handful of independent owners held on. Four to be exact.
The Gibson's that are still operating are located in Kerrville and Weatherford, Texas; and Salina and Clay Center, Kansas.
When I'm done viewing our peacock in the elm tree, I'm going to steer my binoculars and Ford in the direction of Kerrville. I don't live that far from there, and I bet I can spot a garage sale or two, and maybe even a deal or two at Gibson's.
Thankfully, I won't have to attend a marketing convention.
©2021 John Moore
To send John a message; buy his books, Write of Passage: A Southerner's View of Then and Now Vol. 1 and Vol. 2, or listen to his Weekly 5-Minute Podcast; visit his website at TheCountryWriter.com.