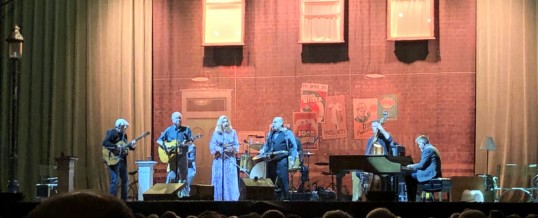 It wasn't until we took our seats in the auditorium in Shreveport that it hit me.
We were sitting in the home of the old Louisiana Hayride.
The Hayride was broadcast from the Municipal Auditorium on radio station KWKH from the 1940s until the early 1960s.
Many artists performed at the Hayride as a means of getting noticed by WSM Radio in Nashville – home of The Grand Ole Opry.
Hank Williams, Elvis Presley, Johnny Cash, Jim Reeves, Johnny Horton, and hundreds of others played the Hayride, which at its peak, was heard all over the world on Saturday night via CBS Radio, the Armed Forces Radio Network, and other broadcast outlets.
It was the Hayride that helped expose Elvis to a national audience. After The King made it big, it cost him and his manager $10,000 to get out of their Hayride contract so that Elvis could move on to what he would later become.
The Shreveport Municipal Auditorium is now a revered site and security is tight to get in. The Art Deco building, built in 1929, has steep, tiered seating above the floor, allowing for a good view for all who buy a ticket to a show.
This had been our third attempt to see Alison Krauss perform. The two previous efforts had been preempted by unexpected events.
We almost missed this show. Not because of any commitments, but because somehow, I just hadn't heard until almost the last minute that Alison was performing at the Shreveport Municipal Auditorium.
Two things were remarkable for me about this performance. One, Alison Krauss has one of the most amazing voices of any living singer. Her talent is effortless and moving.
People in the audience were weeping as she sang.
Two, I was a disc jockey for many years. So, the Louisiana Hayride was legendary for those in my profession.
Alison Krauss commented about the venue. She said she'd always heard about the home of the Hayride, but it was her first time to see it.
If you've never heard Alison sing and play, I encourage you to look her up online and hear her God-given talent.
If you could hear a real angel sing, I suspect it would sound like Ms. Krauss.
The joy she brought was worth far more than the cost of attending.
I wondered if some 60 years before, other audience members had felt the same way when they saw and heard Elvis, Hank Senior, and others.
The first two times we attempted to see Alison Krauss would have been at newer venues. As we walked out of the show and passed the statue of Elvis in front of the building, I had to wonder if we were supposed to be patient and wait, so that we could experience Alison's talent in such a historic place.
I grew up listening to KWKH. Some 25 years ago when I was still a DJ, I promised myself that one day I'd see Alison perform. I finally did.
I highly recommend attending a show at the Shreveport Municipal Auditorium. I also recommend seeing Alison Krauss.
The Municipal Auditorium is a National Landmark. Alison is national treasure.
©2019 John Moore
John's book, Write of Passage: A Southerner's View of Then and Now, is available on Amazon and Barnes and Noble. His new book, Write of Passage Volume II, will be available soon on Amazon. You can reach John through his website at www.TheCountryWriter.com.