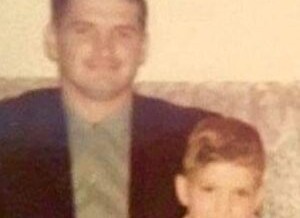 My earliest memories of him are his smiling face and his laugh.
And his singing. As he would hold me tightly and pat my back, the resonance of his baritone voice in my ears and against my chest gave me what every child needs – attention and the assurance of unquestionable love.
I believe that he sang to me, and later to my younger sister, for many reasons. He enjoyed singing, but I also believe that singing was how he connected with us.
When we were young, my sister and I shared a room. At bedtime, we had our routine. Baths, brush our teeth, climb onto our beds, and then call for him. Our dad would then stand in the darkened doorway and softly begin our goodnight song.
Peter, Paul and Mary's, "Puff The Magic Dragon," filled our room as we faded into a deep, comforted sleep.
In the early 1960s, many fathers were distant. Raising the kids was left to the moms. I don't think that this parenting approach was intentional. It was just what dads had learned from their fathers. It was a holdover from a generation that viewed men who showed affection as weak.
My father didn't care what anyone thought. Public displays of affection for me and my sister were the norm. He never had a problem with giving hugs or a kiss, anywhere in front of anyone. He was proud that he loved his children and he wanted the world to know it.
I can't emphasize enough how unique that was for the time. But, I never gave it a second thought.
In middle school and junior high, he would sometimes take me to school and pick me up. As we arrived in his 1964 Ford Falcon, he always said, "I love you, son," as I lifted my book satchel from the floorboard and got out to go to my first class of the day.
I can't honestly say that I was proud to be exiting a 1964, 4-door Ford Falcon while the other kids were getting out of new Ford LTDs, Chevy Impalas, and Cadillacs (to my dad, cars weren't for looks, they were for transportation), but I can say that I was probably one of the few boys whose dads were not only dropping them off at school, but were also hearing, "I love you."
My dad was switched to a night shift when I was about 12. He didn't like it and neither did we, but like most hard-working folks, he accepted it and did the best he could.
He's always credited my mom with raising us, and she was home with us the most and managed all of our activities (guitar lessons and sports for me, and twirling for my sister, and art lessons for us both) while she also worked a job.
But his commitment to doing whatever it took to make sure that he kept a good job so that we had a nice roof over our heads, something to eat, clothes, and school supplies, was a lesson for me. One that I embraced later in life when I was raising two sons.
Like a lot of kids, sleepovers were an inexpensive weekend activity that my buddies and I enjoyed. We would take turns spending the night at each others' houses.
One weekend, I had spent the night with my best friend, Jeff, who lived in Alleen, Arkansas, which is out in the country. When my dad rolled up in the driveway early the next morning to pick me up he was driving his 1966 white Ford Mustang.
He had substantially upgraded from the Falcon.
After my dad and I left and got to the crossroads to turn and head to Ashdown, he pulled over and stopped on the side of the road.
I asked what was wrong.
"Nothing," he said. "It's time you learned how to drive."
I was 13.
Back then, kids learned early how to drive everything from cars, to trucks, to tractors.
We changed seats and he explained to me how the clutch and accelerator worked in combination, and how to shift gears. Off we went.
He later showed me how to work on the car – how to change the oil, bleed the brakes, change the points and condenser, change a flat, and rotate the tires.
When I was 16, he gave me the Mustang.
As I made my way through high school, I counted on him for advice for everything from whether to take shop class to how to understand girls (he told me to take shop class, but that I was on my own on the last one).
My dad has always been there for me. Whether he was praising me or correcting me, he was firm, but loving.
I learned how to be a dad from him.
My children will tell you that while they were growing up, I would sing to them as I tucked them in. I picked them up from sleepovers, taught them how to drive, showed them how to work on cars, but left them to their own understanding of the fairer sex.
They might not have been proud to have been picked up in a 1971 Oldsmobile Cutlass Sport Coupe while the other kids were getting into new Ford LTDs, Chevy Impalas, and Cadillacs (cars weren't for looks, they were for transportation), but they always heard, "I love you," when they got in the car.
I grew up thinking that everyone had a great dad, but later learned that that isn't always the case. Thankfully, it was for my sister and me. The love and pride he expresses has been a constant.
That's why we have Father's Day. For dads like mine.
Thank you, daddy, for embracing father time.
©2018 John Moore
John's book, Write of Passage: A Southerner's View of Then and Now, is available on Amazon.
https://www.amazon.com/Write-Passage-Southerners-View-Then/dp/1548144983
Email John at john@TheCountyWriter.com.