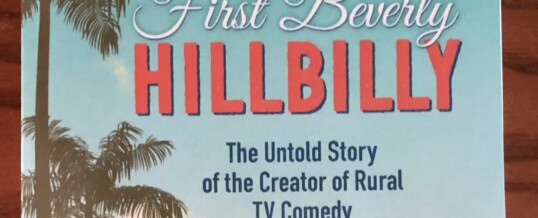 Writers do what we do because we are unable to not do it. In spite of our efforts, most who write for a living can best be described with one word: broke.
But every now and then, a writer succeeds in such a large way that their work affects millions. They connect with an audience and make a great living doing it.
Paul Henning was such a writer. Never heard of Paul Henning? Even though he had unparalleled success, he remained in the background when he was alive and still does today.
But you know and likely still enjoy his work.
Born in 1911 in Missouri, Henning got his start as a writer, singer, and performer for a radio station. He parlayed that modest success into writing for some of the biggest stars in radio in the 30s, 40s and 50s, including George Burns and Gracie Allen, Rudy Vallee, Bob Cummings, and others.
In the late 1950s, Paul branched out on his own to begin working on ideas for television that he had developed way back when he was in the Boy Scouts. Ideas that came from camping trips when he encountered real hillbillies in the Ozark Mountains.
From his memories and creativity, Paul Henning created some of the most memorable and lovable TV characters that we gladly welcomed into our homes in the 1960s and early 70s.
Jed, Granny, Ellie May, and Jethro of The Beverly Hillbillies came solely from the amazing mind of Paul Henning.
After the Beverly Hillbillies became a worldwide phenomenon in 1962 (some argue they were bigger than I Love Lucy), viewers actually showed up at the door of the real Beverly Hills mansion Paul had rented for exterior shots. They asked to see Jed and his family.
People believed the Clampetts were real.
That's the pinnacle of a writer's success. When a viewer or reader believes in a character so much that they become alive.
He not only created the Clampetts, he also brought the characters of Petticoat Junction and Green Acres to life. Three of the top-rated series of the 1960s had his name on them.
The unfortunate thing about the amazing life and abilities of Paul Henning is that during his 93 years, he never received any significant recognition from the industry. Honestly, he still hasn't.
Writers often receive far less in the way of acknowledgement than the actors who read the lines that they write, but it's criminal that Paul gave us so much, yet he's received so little.
I've always read the credits of television shows and movies. It helped me win many games of Trivial Pursuit. But it also allowed me to connect many dots in the small circle of talented people who built the programs that entertained America during the 20th Century.
But, I have to confess; I was one of the many people who enjoyed The Beverly Hillbillies, Petticoat Junction, and Green Acres (the latter being my favorite), yet I focused more on the talent of the actors and little on the words they spoke.
After CBS purged all rural programming in 1970 and 71, including all three of Paul's shows, Henning was somewhat put out to pasture. The same people at the networks who had become rich from his shows decided that programs with a country flavor needed to go.
They were replaced with shows that had more 'social commentary.'
As Pat Buttram who played Mr. Haney was famously quoted as saying, "CBS canceled everything with a tree – including Lassie."
It's worth noting that very few of these social commentary programs are still in syndication, but Jed, the family at the Shady Rest Hotel, and Oliver and Lisa Douglas dominate prime time on MeTV today.
I'm a writer. I make part of my living as one. Yet, I'd not paid as much attention to Paul Henning as I should have.
That is until I came across a book written by Paul's wife Ruth.
"The First Beverly Hillbilly" was written in 1993 and sat dormant until years after her 2002 death at age 88. Through the efforts of her family and Mid Continent Public Library, it found its way to publication.
Paul Henning died in 2005. No major recognitions, no fanfare. He and Ruth are buried in modest Missouri graves.
If he were still here, I'd shake his hand and thank him. I can't, so I bought and read his wife's book to allow me to know him better.
Paul worked hard to bring us good, clean television that, once a week, we welcomed into our homes. And decades later, his shows are still worth watching.
We'll talk again next week.
Y'all come back now, ya hear?
©2020 John Moore
John's books, Write of Passage: A Southerner's View of Then and Now Vol. 1 and Vol. 2, are available on Amazon and on John's website atTheCountryWriter.com. His weekly John G. Moore Podcast appears on Spotify and iTunes.