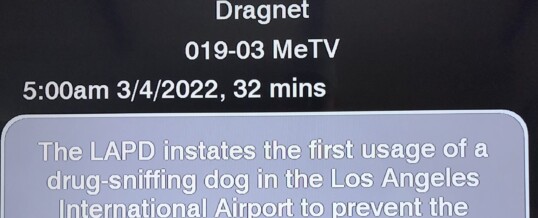 When I was a kid growing up in Ashdown, Arkansas, we picked up three channels. ABC, CBS, and NBC. PBS existed somewhere else near big cities. We'd heard of it, but didn't pick it up off the antenna that was attached to the side of our house. This was the same antenna I was sent out to turn whenever the signal waned.
So, like most others growing up in 1960s America, kids dined on a steady TV diet of Hollywood's version of the country. Aside from fantasy shows such as Bewitched, The Munsters, and The Man from U.N.C.L.E, most of the rest of what we watched was how we thought the world actually turned.
And in some ways, it did. Andy Griffith lived in Mayberry. It was a lot like Ashdown. We had a Floyd the barber, a couple of Otis', even a Barney. But we had never seen anything like the big city folks we saw on Dragnet.
Ashdown had policemen. Dragnet had detectives.
Dragnet also had hippies, actors and actresses, and big city crooks. The worst we ever heard about in our little town were kids drag racing their Cameros and Chevelles on a county road. Dragnet showed homicides and drug dealers.
I wasn't old enough to have seen the original version of the show Dragnet, which hit television in the 1950s. Even before that, Dragnet was a radio program. But, I did see the show when its producer, director, and star, Jack Webb, brought it back in 1966.
It started out as a made-for-TV movie, and then returned as a weekly series in 1968. So that people wouldn't think they were watching the old black and white Dragnet from the 50s, Web called the show by the year it was shown. So, we had Dragnet 1967, 1968, 1969, and 1970.
Even though the newer version was shot in color, not that many folks had a color TV in 1967, so without the year designation, they might have thought it was one they'd seen before.
In the 1950s version, Sgt. Joe Friday's partner was Frank Smith. The actor who portrayed Smith wasn't available in 1966, so Webb grabbed his friend Harry Morgan who had worked on the radio show to be his new partner, Officer Bill Gannon.
Dragnet was the original cop show. Virtually all of the procedural law enforcement programs you've seen since then are based on it. Hill Street Blues, Law & Order, and others have a smattering or more of Dragnet in their DNA.
The difference was that Dragnet used actual police files to write each week's show.
"The story you are about to see is true. The names were changed to protect the innocent," began each week's program. The narrator was George Fenneman, who had served as Groucho Marx' sidekick on "You Bet Your Life."
Webb said he got the idea to use actual crime files when a police consultant on a film offered to provide real cases if Webb ever decided to do a show of how law enforcement actually worked.
For a kid who lived in something more akin to Mayberry than Los Angeles, Dragnet was something worth watching. If Sgt. Friday and Officer Gannon had a homicide, they solved it. If they had a drug dealer selling to kids, they caught him. They even dealt (albeit lightly) with topics including the new adult movie industry and suicide.
Dragnet was at times preachy, and at other times heartwarming. A Christmas episode helped a local priest find the missing baby Jesus, who had disappeared from a church nativity scene.
When Dragnet originally aired, I was allowed to watch it, but then I had to go straight to bed. These days I watch reruns of it on MeTV because I don't sleep much. Two episodes air each weekday from 4:30 – 5:30 a.m.
There are things I notice now that I didn't then. Including the fact that a very small stable of actors played many different parts in the show. Once Webb found people he liked, he stuck with them. The same actress who played a wayward girl in one episode might play a schoolgirl leading a new anti-drug campaign in another.
The show was shot on a budget and today seems simplistic in its look compared to what we catch on the tube today.
But it holds up. Dragnet only aired for 3 ½ seasons and 98 episodes. I wish they'd made more. Yet, with just a few episodes, I don't tire of seeing them. It was and still is good American television.
And we have one man, Jack Webb, to thank for it.
Webb was a heavy smoker and passed away at age 62 in 1982. He left behind a lot of other TV shows you likely didn't know he also produced. Besides Dragnet, Jack also brought us Adam-12, Emergency, Hec Ramsey, and others. But it was Dragnet that brought small-town America things we hadn't seen in person, and never thought we would.
If you're up early sometime, make a pot of coffee and tune in Sgt. Friday and Officer Gannon. Or set your DVR. You'll be surprised how much you enjoy it.
Just so you don't have to wait until Christmas to find out who took the baby Jesus, it was a small boy from the church. He wanted to give Jesus the first ride in his new red wagon.
©2022 John Moore
John's new book, Puns for Groan People, and his books, Write of Passage: A Southerner's View of Then and Now Vol. 1 and Vol. 2, are available on his website – TheCountryWriter.com, where you can also send him a message and hear his weekly podcast.