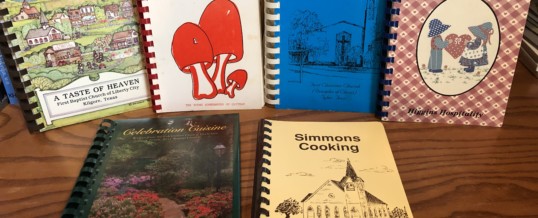 I was almost home from a very long drive when I saw the first estate sale sign. Exhausted, I paused for a moment trying to decide whether to turn or keep going.
That tells you how tired I was since I almost never pass up an estate sale.
I made the turn and followed the first sign to the second, then the third, finally arriving at the address. But, there was no sign in front of the house. It was 3 in the afternoon on a Saturday, so I guessed they had just called it quits, but hadn't pulled up the directional signage.
I parked and knocked on the door. Sure enough, the lady running the sale said she had closed down at 2, but still had some items and that if I would hurry, we could negotiate and I could buy what I wanted.
Most things were gone, but there were still lots of books. The first ones I looked through were novels. I quickly moved on to the next stack, which stopped me in my tracks.
There, in front of me, were decades of Sunday School and church cookbooks. I had struck gold.
When I was growing up, cookbooks compiled by the women in churches were a common way of sharing the most popular recipes served at pot luck and other faith-based gatherings.
But, they were also a way to fellowship during the book's assembly, and ultimately, they were a fundraiser for the church.
I opened the cover of the First Christian Church recipe book first.
"Kitchen Creations. Recipes Compiled By Genesis Sunday School Class. First Christian Church. Tyler, Texas."
There was no date of publication, but judging from the type of artwork and the fonts used, it appeared to be from the early to mid-70s.
From all of the handwritten notes throughout the book, the lady who had owned them proudly marked her favorites.
"Snack Meat Balls – p. 15"
"Monkey Coffee Cake – p. 27"
"Pumpkin Bread – p. 26"
She had written these notes on the inside of the cover. However, one recipe must have been especially good.
"Mex. Chicken Spaghetti – p. 114," was written in ink on the book's cover on the top left. She even put a star to the right of it.
Other cookbooks included, "A Taste of Heaven," from First Baptist Church of Liberty City – Kilgore, Texas. "Celebration Cuisine," was another, published by Green Acres Baptist Church.
There was also a PTA book dated 1978, which came from Higgins Intermediate School. It's not a church cookbook, but I'm betting that lots of its recipes were served at many a church social.
Another book is called, "Mushroom Magic." Published by the Quitman Chapter of the Young Homemakers of Texas in 1977. Only 500 copies were printed during its first run. Entries include everything from appetizers to desserts. The cover was hand drawn and the pages were done on a typewriter. Someone put a lot of work into this one to save on layout and printing costs.
The cookbook published by the Simmons Improvement Club includes a sketched picture of the Simmons Community Church, located in Simmons, Texas. I found a photo of the church online taken in 2007.
The Simmons book listed 1921 as the year of organization for the improvement club. I could not find a date for the year their cookbook was published, but it appears to be about 40 years old.
All of the cookbooks include the types of dishes that those of us in the South were raised on. Chili-cheese dip, deviled eggs, squash casserole, yeast rolls, easy meatloaf, goulash, peach cobbler, pecan pie, and of course, Mexican chicken spaghetti, were included in the cookbooks.
My mother said that the best recipes you can ever find are in church cookbooks. She is absolutely correct. But, what you also find in these treasured books is a view into a world that once was. Reading each one gives you a picture of who these worshipers and friends were and the meals that they treasured and shared with each other. Fortunately, they are still sharing them with all of us.
I regret that I never met the owner of these recipe books. I would have loved to have been able to ask her why she picked that Mexican dish and wrote it in ink on the cover. I would also ask which of her own recipes she liked most, and why.
It's too late to ask her, but it's not too late to ask those who are still with us. I encourage you to connect with your fellow church and community members and exchange recipes. Maybe even do a cookbook as a fundraiser.
The cookbooks do have wonderful recipes, but the real blessings of working on projects like these isn't so much the food, it's the fellowship. Everything else is just icing on the cake.
©2019 John Moore
John's book, Write of Passage: A Southerner's View of Then and Now, is available on Amazon and Barnes and Noble. You can reach John through his website at www.TheCountryWriter.com.