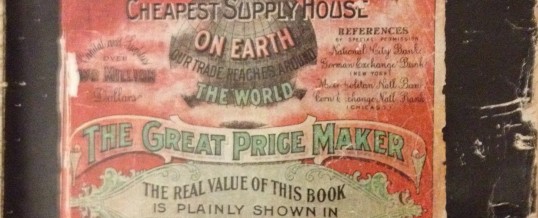 I stood patiently waiting to pay for my socket set. There was a couple in front of me who, with the help of an employee, were thumbing through a sale flyer. Whatever it was they wanted to buy, it seemed that it was in the flyer but not in the showroom.
"I know I have some in the back," said the clerk.
The three then left the register area and headed that direction.
There was one other employee in the tool department. He was assisting another customer.
Other than that, the store was fairly empty. And this was after church on a Sunday.
I still stood at the register, patiently waiting.
Suddenly, a young man with a badge appeared from the aisle full of toolboxes. "You ready to check out, sir?"
I nodded.
He rang up my purchase, handed me a gift card and a fistful of coupons, and thanked me.
As I made my way to the car, I felt as if I had just left a wake.
Sears dates back to the 1880's. As the story goes, Richard Sears was working as a railroad employee in Minnesota when he received a shipment of nice watches that were not wanted by the merchant who was supposed to receive them. Mr. Sears decided to keep and sell the watches himself, which he did for a nice profit.
That beginning led to a catalog company, and later one of the country's largest retailers that helped working class Americans dream, buy items they wanted, and even build their homes. For a few years, Sears sold home kits. They'd ship you all of the materials to actually build a home.
Sears later teamed up with Alva Roebuck, and for the next few decades, they sold goods to rural America via mail order. They would later open retail stores in towns, many of which in the 60s and 70s moved to malls.
How many of us who were born in the early to mid-20th century haven't worn Toughskin Jeans, or had a bicycle that came from Sears? My first electric guitar was a Silvertone from there.
Most Baby Boomers don't realize the extent to which Sears has been a part of our lives.
Our parents furnished our kitchens and laundry rooms with Kenmore stoves, washers, dryers, and other appliances. Our cars and trucks had Diehard Batteries under the hoods, and our fathers repaired our vehicles, built our houses and garages, and assembled our new bikes with Craftsman Tools.
Each year, kids would argue over who got to look at the Sears Wishbook first when it arrived. We'd spend hours looking through it, dog earring the pages that featured the items we wanted.
Santa Claus was always at Sears. We'd make the annual pilgrimage there to see jolly old St. Nick, sit on his lap, and tell him what we wanted from Sears on Christmas morning.
For decades, Sears was the dominant retailer in the country. In the mid 1970s, the Sears Tower in Chicago became the world's tallest building.
The company also expanded into several other areas of business. Sears gave us Allstate Insurance, Dean Witter investing, and the Discover Card.
All of these have since been sold off, and even Caftsman Tools, the flagship brand of Sears, was recently sold to Stanley Tools. Ironically, Sears seems to be canabalizing itself to stay alive.
So, what happened?
The answer is a lot. Walmart and other stores changed the business model. Sam Walton had an amazing sense of how to give people what they wanted. He built Walmart in small towns; towns where there often wasn't a Sears nearby.
Suddenly, a catalog became less important when we could ride our Sears bike to Walmart to buy a cheaper electric guitar or pair of jeans. Sears published their last catalog in 1993.
Now, the Internet and companies such as eBay and Amazon are giving all box stores a rough time. Walmart and Sears both have online ways to purchase products, but the truth is, most of us like the convenience of one-click shopping. It's easy to set up an account, log in, buy what we want, and have a person in a big, brown truck bring the item to our front door.
Change is inevitable, and we are all susceptible to it. We have to accept that things do not stay the same, but as I left Sears on Sunday, I felt sad. I'm just as guilty as the next person for not shopping at Sears like I used to, but I understand why the company is where it is with sales.
It is sadly ironic that the store that began with a shipment of watches seems to be running out of time.
©2017 John Moore
To read additional blogs, visit johnmoore.net/blog